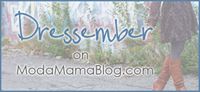 I made it!!!
I made it an entire week.
With actual dresses!!!!
Are you as shocked as I am?
You should be.
It's Saturday, so I'm linking up with Joanna again at ModaMama for Dressember link up.
This week was challenging. It is definitely getting into the groove of thinking things through.
"Do these tights go with this?" "Will anyone notice if I wear identical leggings?" "Why do I have 4 pairs of brown leggings????" "Why are all of my tights gray? Was I high when I bought 4 pairs of gray tights from Ann Taylor Loft??"
Dress:
Charlotte Russe
// Coin Bracelet: Target probably // Saint Jude bracelet: Etsy // cocoon sweater:Vanity // Boots: ShoeDazzle
I felt like a teacher. All day long.
I ended up wrapping a silver sequin belt around my waist over the cardigan and tossed on a silver satin trench coat.
It was a windy day and the skirt was awfully short. Also, I have no idea what my boobs are doing.
Dress: Charlotte Russe // Boots: ShoeDazzle
I really didn't care this day. It was a long day at work and I spent most of the day working. And obviously one of the downfalls of being petite is that arm holes for everything are meant for proportionate people.
Dress: Charlotte Russe (of course) // Cami: The Buckle // Tights: Target
This is one of the more daring outfits I tried. This dress is older so the silhouette is slightly outdated. I'm also not well versed in brightly colored tights. These were a pretty bright mustard. It worked. Definitely different though!
Dress: American Eagle (Shocked? I was too) // Cami: American Eagle // Tights: Target //
Flats: No idea
I was pleasantly surprised with how this one turned out. The dress I bought in the spring and didn't think it would hold up well in the South Dakota winter, but it didn't do too bad. I love the ribbon ties on the sides instead of back and it was super comfortable. It took several times to find the right pair of shoes. I tried some slouch boots but the dress was too long. I tried some sweater knit flats and it looked weird and finally fished these out from the bottom of my closet. They're made of some sort of silk and are pretty comfortable.
Dress: Charlotte Russe (For I apparently single handedly keep them in business it seems!) // Cami: The Buckle // Lace Blouse: Vanity // Boots: no idea I've had them since I was 19, a Christmas gift from an ex.
I think this was my favorite of the week. The dress is about a size too big so it felt like I wasn't wearing a huge tee. The skirt is very twirly and it's surprisingly warm. And made me feel skinny.
That was MY Dressember week!!! How was yours??? Which is your favorite so far?