It's Sunday! So it's time to link up with
@Neelykins
from
A Complete Waste of Makeup
and
@ashleyO23
at
Ashley's Carnival Ride
for the Social Sunday! This week is all about Music!
I would have had this up much sooner if Midcontinent Communications didn't suck as my connection has been super spotty lately...
Enjoy!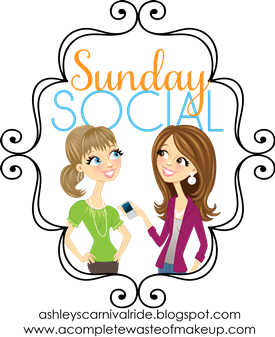 I'm such a romantic when it comes to music. Which is surprising as I'm not generally a horribly sentimental person. But this song...so amazing. My favorite version is the Rufus Wainwright version, but I've yet to find a cover that I didn't enjoy. There is just so much emotion to the song.
Well I heard there was a secret chord
that David played and it pleased the Lord
But you don't really care for music, do you?
Well it goes like this:
The fourth, the fifth,
The minor fall and the major lift
The baffled king composing Hallelujah


Baby I've been here before
I've seen this room and I've walked this floor
I used to live alone before I knew you
And I've seen your flag on the marble arch
and love is not a victory march
It's a cold and it's a broken Hallelujah


there was a time when you let me know
What's really going on below
But now you never show that to me, do you?
But remember when I moved in you
And the holy dove was moving too
And every breath we drew was Hallelujah

Hallelujah, hallelujah, hallelujah, hallelujah...

Maybe there's a God above
all I've ever learned from love
Was how to shoot somebody who outdrew you
And it's not a cry that you hear at night
It's not somebody who's seen the light
It's a cold and it's a broken Hallelujah

My dad was always a huge Aerosmith fan. So he passed his love for them on to me. They definitely remind me of him in his good times. Even if we don't talk often.
Nirvana has always been one of my favorites. Not only do I share a birthday with Kurt Cobain, but we're both lefties. Favorite album is by far Nirvana: MTV Unplugged in New York
Just the raw pain in the music and the melody are always relaxing to me. Yup. I'm pretty much emo.
Ugh! Such a hard decision!!!
It depends on the day and my mood.
I think this one describes my personality pretty well:
Short Skirt, Long Jacket
Cake
I want a girl with a mind like a diamond
I want a girl who knows what's best
I want a girl with shoes that cut
And eyes that burn like cigarettes
I want a girl with the right allocations
Who's fast and thorough
And sharp as a tack
She's playing with her jewelry
She's putting up her hair
She's touring the facility
And picking up slack
I want a girl with a short skirt and a lonnnng jacket......
I want a girl who gets up early
I want a girl who stays up late
I want a girl with uninterrupted prosperity
Who uses a machete to cut through red tape
With fingernails that shine like justice
And a voice that is dark like tinted glass
Runaway Train by Soul Asylum has always been a very special song to me. It definitely hit home while I was growing up. Like I said, emo to the max.
So tired that I couldn't even sleep
So many secrets I couldn't keep
Promised myself I wouldn't weep
One more promise I couldn't keep
It seems no one can help me now
I'm in too deep
There's no way out
This time I have really led myself astray
Runaway train never going back
Wrong way on a one way track
Seems like I should be getting somewhere
Somehow I'm neither here nor there
Can you help me remember how to smile
Make it somehow all seem worthwhile
How on earth did I get so jaded
Life's mystery seems so faded
I can go where no one else can go
I know what no one else knows
Here I am just drownin' in the rain
With a ticket for a runaway train
Everything is cut and dry
Day and night, earth and sky
Somehow I just don't believe it
Bought a ticket for a runaway train
Like a madman laughin' at the rain
Little out of touch, little insane
Just easier than dealing with the pain
Katy Perry- Firework
Did I mention I'm cheesy and stuck in the 90's???
Spam by Save Ferris
The World is New by Save Ferris
The World Will Know from Newsies
That Thing You Do
When I was 16, my grandmother died. My Father, little brother and I had to drive from Northwest Arkansas to Ft Lauderdale, Florida. My dad and I switched off driving. I took the majority of the trip from Arkansas to the Georgia state border. I had my first tire blow out during that trip. So when we had stopped to get the tire fixed, I picked up the latest Cake CD (Prolonging the Magic. Yes I am old)
Since then, Cake has always been my go to Road trip music
For as much Nickelback hate there is out there, they seem to be doing pretty damn well. So I guess there must be some secret society keeping them in the business.
This song is sort of symbolic. Something that was playing on the radio during an event that was try similar to the one in the song
I'll see you next week for week 4!