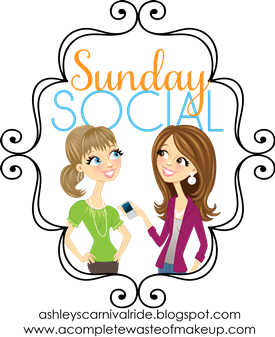 "What is The Sunday Social you ask?
The Sunday social will be 6 questions every Sunday that all have a similar theme to them. Its a great way to meet new people, gain some followers and find new blogs you can't wait to read! People will slowly get to know you. You can add pictures to the posts, videos, whatever you want."
One of my favorite musicals is Miss Saigon. During a turning point in life, it was pretty much constantly in my CD player. (Remember those!?) So that is where Saigon came from. Deconstructing is from my original idea of the blog in which I would deconstruct different issues and quirks of my life.
So...Deconstructing Saigon.
My name "Saimaeve" Comes from combining Saigon and Maeve. (Maeve is an Irish name, I late came to find out that Queen Maeve is a very..very lusty warrior Queen. She was a bit of a
lush)
What is your favorite thing about blogging?
The connections. I'm slowly getting to know people more and more. It's a different group than
people I know in town. So the interests are much more varied and wide reaching. I really started reaching out when Nate was deployed. Needless to say it made it much easier to deal
with.
What is one thing you have discovered because of blogging and now cant live without?
Bloglovin. I enjoy having one place to keep all of the blogs I follow and its easy to
reach even when I'm on my phone and stuck at dance classes or waiting at appointments.
Facebook or Twitter? and why?
Twitter. I'm much less censored on Twitter than Facebook. And it's a much broader reach.
Stanley Tucci.
Yum.
What is something you want people to know about your blog?
I am a very scattered and lazy blogger. I don't plan out my blog posts. I don't have a blogging planner. I don't update daily. I blog real life. I'm not a model, I'm not the perfect
mother and I'm definitely not crafty. But I'm honest and real.